May 19, 2014
(EDITOR'S NOTE: Cape Charles Historical Society has for more than a decade been recording oral histories of the area's earlier days.  A grant from the Virginia Foundation for the Humanities enabled 15 interviews to be transcribed, and the Historical Society has made this one available for readers of the Wave.  All the transcriptions may be read at the Cape Charles Museum.)
1990 Interview of Virginia Fitzhugh conducted by Virginia Savage
PART ONE
VIRGINIA SAVAGE:  I am talking to Virginia Fitzhugh, who was born and raised in Cape Charles.  Virginia, what was your maiden name?
Virginia Sadler.  I was raised in Cape Charles.  I was born next door to the old Virginia Hotel and the Henderson Travis House. [Across from the Post Office, on the southwest corner.  Her father was Capt. Sadler, a NYP&N steamer captain.]
West side of Virginia Hotel?  Which would be right across from the Post Office on the corner of Strawberry and Randolph.
That's where I was born.  And then Daddy bought the house up in the middle of the block on Randolph.  I don't know who lives there now but he bought right in the middle.  Alva Stiles used to live there.  And then Daddy built the first house that was built this side of Pine Street other than the house that was back in the woods.  And he bought the lot from the Scott Estate and built down there.  And we thought we were right on the beachfront.  The corner of Tazewell and Harbor.
Did he have to build that house on pilings?
No.  He happened to get the house part of the land that was down there.  And see, the beach came right up to Harbor Avenue.  Sand and everything.  That's a built in place from Harbor right up to beachfront.  That was sand that was blown up and built up all that up there.  Daddy thought he was right on the beachfront.
Isn't that amazing!   I knew that Jeannette Edgerton's house, for one, was built on pilings.
Well, all those apartments across from us, they're all built on pilings.  And we used to watch them and the pile driver would hit one and it would go out of sight and they'd have to put another one right on top of it.  You see, that's all swamp there.  And because it had the cat o' nine tails and the grass that grows on the beach and all that stuff. [Read more…]
Sunday, June 1,  is the Eastern Shore Spay Organization (ESSO) fundraiser. Wine & Sunset Dolphin Cruise on the Miss Jennifer departs 7:30 p.m. at the Cherrystone Campground Dock. [Read more…]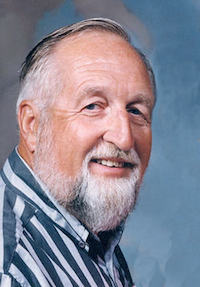 May 19, 2014
Glenn Lee Roper, 83, husband of Essie West Roper and a resident of Cheriton, passed away Saturday, May 17, at his residence. A celebration of life service will be conducted 11 a.m. Friday, May 23, at American Legion Post #56 in Cheriton. Rev. Elizabeth Lutz will officiate with Post Honors.
Mr. Roper was a native of Staunton, the son of the late George W. Roper and the late Margaret Fitzgerald Roper. He was a United States Air Force Veteran, retired mechanic for United Airlines, taught airline mechanics, and member of American Legion Post #56.
In addition to his wife, he is survived by three daughters, Margaret R. Martin and her husband, Roger, of Townsend, Patricia R. Becker of Bloxom, Eva R. Jee and her husband, Edmond, of Vacaville, CA; eight grandchildren and 17 great grandchildren. [Read more…]