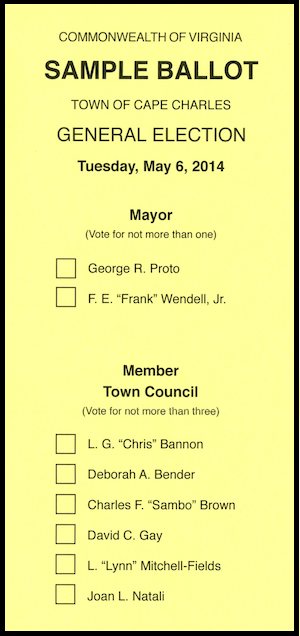 CLICK to See:
CLICK to See:
CLICK to See:
WHY I'M RUNING

CLICK to See:

CLICK to See:

CLICK to See:

CLICK to See:
Vote Tuesday, May 6, at Trinity United Methodist Church Fellowship Hall, 410 Tazewell Ave.
Polls open 6 a.m. and close 7 p.m.
Bring any one of the following ID: Local Voter Registration card, Social Security card, valid Virginia driver's license, government ID, or ID card with photo issued by employer.
A CAPE CHARLES WAVE EDITORIAL
May 5, 2014
Although the ballot for Tuesday's municipal elections in Cape Charles contains eight names, deciding whom to vote for is not as complicated as it might appear. There are really only two teams – the old team and the new team. All a voter has to decide is whether to keep the old team or elect the new team.
True, of the eight candidates, only two of them are running for re-election: Town Council members Chris Bannon and Joan Natali. They form half of the old team. The other half is composed of George Proto for mayor and Charles "Sambo" Brown for Council. But the only reason those two are running is because the Sullivans, Dora and Mike, decided not to run.
While it can be argued that Mr. Proto and Mr. Brown have very different styles from Mr. and Mrs. Sullivan, it is a certainty that neither of them would have run against the Sullivans. They are, in fact, Mayor Sullivan's hand-picked successors.
The new team is a very different story: each of the four candidates is running because they are alarmed by the direction the old team is taking the town. Understanding that in a democracy the only sure way to effect change is at the ballot box, they are opposing the incumbents and their designated successors.
The new team is Frank Wendell for mayor and Deborah Bender, David Gay, and Lynn Mitchell-Fields for Council. Each has his or her own ideas, but on the over-arching issues they agree: town spending is out of control, as are town utility bills. The town is borrowing like there is no tomorrow, and a number of full-time residents who work here for a living are moving out of town to avoid the extortive water bills and high taxes. [Read more…]