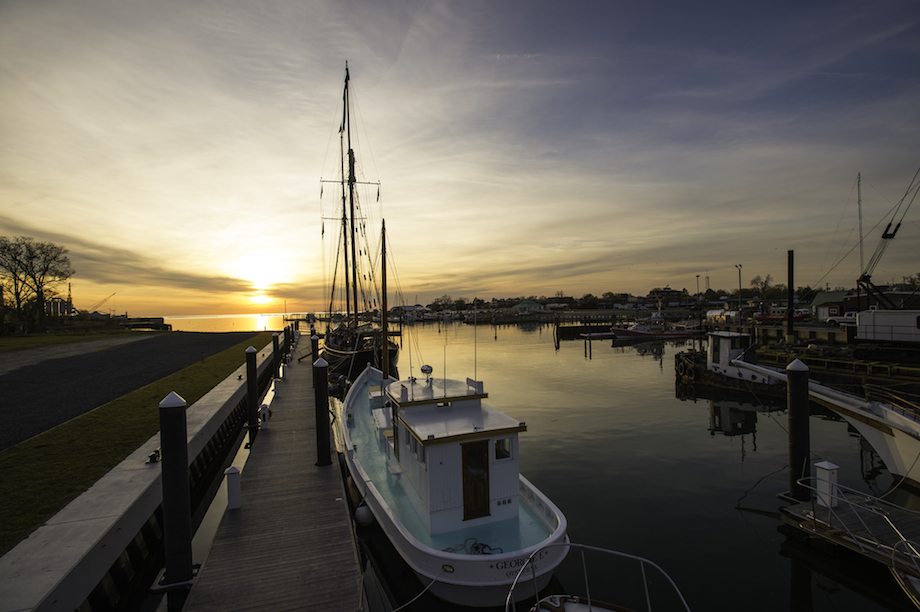 WEEKEND: MESSING ABOUT IN BOATS
(May 17, 2014 Weekend edition) "There is nothing — absolutely nothing — half so much worth doing as simply messing about in boats." (Kenneth Grahame, The Wind in the Willows). But as boat enthusiasts know, much of the time is spent working on the boat. And that's not a bad thing either — especially when there's a boat yard at hand. The photo above, courtesy of Cape Charles Yacht Center, belies the activity going on there now — especially Thursday's soirée hosted by Eyre Baldwin to mark the grand opening of the yacht center. Some 500 guests attended, and Baldwin announced that "Phase Two is now." He was talking about accommodation for mega-yachts that will require a 300-ton boat lift. That was planned for sometime in the future, but according to Baldwin it's going to happen now.  Meanwhile, the 75-ton-capacity Travel Lift is up and running, and Cape Charles Yacht Center is open for business. It's a great time to mess around in a boat!
By KERRY ALLISON
Eastern Shore of Virginia Tourism Commission
May 17, 2014
Jacque Dumoulin and his wife, Shirley, driving from Florida to Pennsylvania to visit family, needed a break after they arrived on the Virginia Eastern Shore via the Chesapeake Bay Bridge-Tunnel, and stopped at the rest area on the right. As is often the case, they noticed the tiny, cheerful and information-rich visitor center housed in the same building and decided to take a look around.
When Mr. Dumoulin walked through the Welcome Center door, he was greeted by Allan Burns, center manager, as the official half millionth visitor to the Eastern Shore Southern Gateway Welcome Center, which opened in August 2009. It's another milestone for the center, which has seen increases in utilization every year since opening and averages 10,000 visitors monthly.
The lucky Dumoulins were showered with gifts, all local treasures donated by Eastern Shore businesses. "We can't wait to tell our daughter and her family," Dumoulin said. "We've never stopped here before and had no idea this area was so interesting." He pointed to the 3D map of the Eastern Shore of Virginia National Wildlife Refuge, one of the state-of-the-art features of the Welcome Center, which has four attention-grabbing light box displays, two 3D exhibits, a real-time video weather feed, videos showcasing local attractions, area restaurant menus, and over 200 rack cards touting everything from history, recreation, shops, restaurants and lodging to upcoming events. A touchscreen information kiosk in a corridor just outside the center helps visitors who stop in during off-hours. [Read more…]
Golfers — mark your calendars for June 6, the 70th Anniversary of D-Day, and support military veterans, the American Legion, and its programs, at Bay Creek Golf Club. CLICK to download golf tournament application. [Read more…]
Young Artist Show, Franktown United Methodist Church, Fellowship Hall, 5-7 p.m. Friday, May 23. Featuring art by young artists ages 2-6. Artwork offered from $5-$30 and all proceeds go to Montessori Children's House of Franktown.