By SARAH GOLIBART
Cape Charles Wave
May 29, 2014
What is Chuckletown Productions? Everyone seemed to be asking this question before the store's grand opening the Friday of Memorial Day Weekend.
What is Chuckletown's mission? Create cool stuff. Walking into Charlene Dix and Laurie Klingle's shop on Mason Avenue you can see they created plenty of cool stuff. And I don't mean created as a loose term — Charlene and Laurie came up with nearly all of the designs sold on their items.
"Every other design here comes out of our heads. All of the ideas and layouts and little phrases and such are Chuckletown Designs," explained Laurie. When asked about the essence of Chuckeltown, employee Staige Goffigon answered, "It's really cool how they came up with the sayings on all the t-shirts and everything themselves. Everything is really original and casual." [Read more…]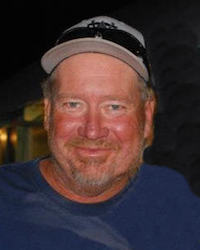 May 29, 2014
Curtis Albert "Al" Heath Jr., 51, a resident of Townsend, died unexpectedly Monday, May 26, at his residence. A memorial service will be held 3 p.m. Saturday, May 31, at Lower Northampton Baptist Church with Reverend Jeff Conrow officiating.
Born November 26, 1962, in Salem, MA, Mr. Heath was the son of the late Curtis Albert Heath Sr. and Vera Theus Heath Miller of Cheriton. A life-long waterman, he was a loving father who extended his generosity and heart to everyone he encountered. His jovial, laid-back nature promised that he never met a stranger.
In addition to his mother, Mr. Heath is survived by four children, Curtis Earl Heath and his wife, Carla, of Townsend, Lauren Kate Heath of Cheriton, Jon Drea Heath and Isabella Soleil Heath, both of the Eastern Shore; two brothers, Brian Clark Heath and his wife, Kim, of Fawn Grove, PA, Mark Russell Heath of Anthem, AZ; one sister, Kimberly Heath Horn and her husband, Randy, of Anthem. [Read more…]
Celebrate the Arts in Cape Charles this weekend at the 17th annual Benefit by the Bay, 6 p.m. Saturday, May 31, complete with champagne, a big band, dancing, dinner prepared by Tim Brown from Hook U Up, oysters and shrimp, an auction — and paparazzi! Our guests will be celebrities, even if for just one evening, and everyone will be encouraged to have fun dressing the part. [Read more…]
Local recipients of NMA Federal Credit Union Memorial Scholarships are Kristen Kelly, Kalyn Allums, and Koren Satchell. [Read more…]