George Russell Moore, 44, Sting-Ray's General Manager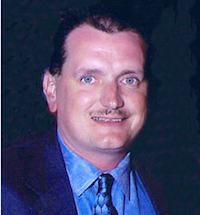 June 28, 2014
George Russell Moore, III, 44, husband of Jennifer Thornes Moore and a resident of Cape Charles, passed away Monday, June 23, at M.C.V. Hospital in Richmond. A native of Capeville, he was the son of the late George Russell Moore, Jr,. and the late Jean Wyatt Moore. He was the general manager of Sting-Ray's Restaurant and Cape Center and a member of the Northampton Chamber of Commerce.
In addition to his wife, he is survived by his sister, Sandra Faye Moore of Capeville; mother-in-law, Ethel Parker Thornes of Birdsnest; cousin, Julius Wyatt of Cape Charles, and his loving dog, Lula.
A graveside service was conducted June 27 at Capeville Masonic Cemetery with Reverend Jeff Conrow officiating.  In lieu of flowers, memorials may be made to Be the Match, 3001 Broadway Street N.E., Suite 100, Minneapolis, MN 55413-1753.
Online condolences may be sent to the family at www.doughtyfuneralhome.com.
Arrangements are by Wilkins-Doughty Funeral Home, Cape Charles.