Edward 'Ned' Doughty, 83, Fishing, Canning Entrepreneur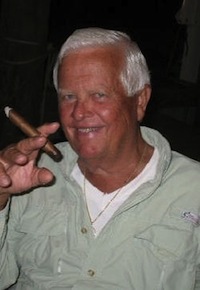 October 3, 2013
Edward J. "Ned" Doughty, III, passed away at his Norfolk home Tuesday, October 1, after a long and courageous battle with cancer. A graveside ceremony will be held 1 p.m. Saturday, October 5, at Cape Charles Cemetery. Memorial contributions may be made to the Children's Hospital of The King's Daughters, PO Box 2156, Norfolk VA, 23501-9873.
Condolences and remembrances may be shared with the family at www.doughtyfuneralhome.com. Funeral arrangements are by Wilkins-Doughty Funeral Home, Cape Charles.
Ned, as he was affectionately known to his family and many friends, was born November 30, 1929, in Oyster on his beloved Eastern Shore and was a self proclaimed "Oyster Rat".
Ned was a loving husband, father, grandfather, and great grandfather, brother, and loyal friend. Left to cherish his memory are his loving wife Marilyn, daughters Linda Jones and husband Marc of Cheriton, and Joan Fish and husband Russell of Chincoteague, brother George Doughty of Cape Charles, step daughter Adrienne Link and husband Rob of Norfolk, step son Brady Hussey of Norfolk; granddaughters Shannon Dunham and husband Garrett of Cheriton, Kimberely Custis and husband Chris of Charleston, SC, and Stephanie Montross and husband Chris of Chincoteague; Davis and Ava Link, and Llly and Owen Reece of Norfolk. Great-grandchildren Rykert, EJ, and Victoria Dunham, Jordyn Jones, Isabella, Landon, and Savannah Custis, and grand pet Seal Montross. Also missing Ned are his faithful pets Holly and Sophie.
Ned was preceded in death by his father Edward Joseph Doughty, Jr., and mother Isabel Nottingham Doughty, and sister-in-law Catherine Doughty.
Ned was an avid boater, fisherman, and gardener. He enjoyed smoking cigars and his daily rum and diet coke.
Ned was widely recognized as a self-made man and successful entrepreneur. He began his many careers working for the Ferry Commission. When the Chesapeake Bay Bridge-Tunnel opened, Ned was offered employment with Cape May Lewis Ferries but had a dream of owning his own business; thus the birth of C & D Seafood. His life long friend and partner Ralph Crumb became the C of C & D Seafood. Later Ralph moved to Panama and C & D Seafood became Ned's sole possession. C & D now stood for Choice and Delicious Seafood.
Ned was responsible for bringing the first sea clam boat to the Eastern Shore, the Lil' Robin. He was the owner of two sea clam boats, the Prescott and the Advance. The hay day of sea clams was in full swing and the boat was on the grounds only coming in to the docks to unload, refuel, grocery up and return to the ocean.
Having built C & D Seafood into a very successful business, Ned was able to sell and start a life of boating for fun. But, retirement was not what he had anticipated. The hobby he listed at one of his class reunions was "work."
Ned next entered the canning business. He first purchased the Kane Miller Corporation, formerly G. L. Webster Canning Company. Webster had been an icon on the lower part of the Shore. With this purchase Ned had found his new hobby. He next purchased the W.L. Wheatley Corporation in Smyrna, Delaware, along with a celery plant in Cairo, GA, both from the Campbell Soup Company. The celery plant was one of the largest producers of fresh celery for Campbell Soups. He later sold these businesses and was again destined for retirement. But that hobby, "work," was always in his mind. Ned next undertook the creation of the New Inlet clam company, growing, harvesting, and processing clams.
Ned was a generous philanthropist supporting charities including the Oyster Chapel, the Bank of Cheer Fund sponsored by the Eastern Shore News, the Eastern Shore SPCA, the March of Dimes, and the Eastern Shore ARC. After moving to Norfolk Ned became a generous supporter of the Children's Hospital of The King's Daughters.