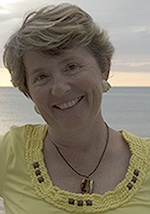 By SHER HOROSKO
Cape Charles Wave
July 17, 2013
There are places that get in your blood. This is surely one of them.
Just last week I met the man who farms the field outside my window. "What's your name?" I ask. "Bud" he says — "You know like Bud Light. Lived here all my life. Never gonna leave."
I could ask him what it is about the place, but I don't. I track the gleam in his eye instead. His love spills into the sandy soil, sails the windswept fields and dips into the sea close by.
The land-and-blood-thing is strong in him.
Along the back roads toward Kiptopeke, the fields of corn stretch into the arms of Virginia pines. In Cape Charles Harbor, small orange claws and tiny fins poke through the slats of wooden baskets.
"Will I ever get used to this?" I ask myself while topping my oatmeal with handfuls of blackberries picked from a neighbor's yard.
This is a land of abundance. The horn of plenty is all filled up.
But not for all.
It is the riddle of Abundance living next door to Hunger that brings me to a hot and dusty field after a midnight run to the ER. Tired, disheveled, and barely thrown together, I pull up to a land lit with color.
The gleaners are here, 46 of them from three Virginia churches. White-laced bags of potatoes, about 8,000 pounds' worth, are stacked and nestled in the powdery earth and spent green vines.
Gleaning means to "gather what is left."
Local farmer David Long invites the Society of St. Andrew to come to his field each year to share in the abundance he co-creates on Virginia's Eastern Shore. Every bit of what's gathered goes to the hungry people who live here.
Looking over the gleaners, it is clear to me that rescuing potatoes requires strong calves or dirt-coated knees. Surrendering to T-shirts wrung with sweat is part of the whole thing, too, and so is a pretty sore back at day's end.
CAPE CHARLES WAVE
July 17, 2013
The Town of Cape Charles has announced three staff changes: two police officers and the town planner.
Police officer James Pruitt has been promoted to the rank of sergeant. According to the Town statement, "His promotion was based on the performance and work ethic shown since being hired in 2010 and his continued attention to detail while performing the required duties assigned to him by command."
Pruitt was recognized by Gov. Robert McDonnell last October for organizing a dedication service for the Town's only officer to be killed in the line of duty.
The Town also formally announced the appointment of Rob Testerman as the Town Planner. A native of Chesapeake, Testerman holds a  B.A. in Public and Urban Affairs from Virginia Tech, where he studied urban planning in the College of Architecture and Urban Studies.
After graduation, Testerman was the land use planner for Accomack County for six years before joining the staff of Cape Charles.
His work for Accomack County included rezonings, conditional use permits, ordinance revisions, GIS mapping, comprehensive plan research, and erosion and sediment control inspections. Testerman is certified by the American Institute of Certified Planners.
Chelsea Pfeiffer, the Town's newest police officer, holds a B.S. in Administration of Justice from George Mason University. She worked for two years as a probation officer for Accomack County and operated the 2A Court Service Unit's satellite office in Eastville.
The Snips van will be in Cape Charles Monday, August 5, at the old Bay Market parking lot on Mason Avenue. [Read more…]
The Cape Charles Band will perform a free concert in Central Park 7 p.m. Saturday, July 27, followed by a movie sponsored by the Cape Charles Recreation Department. [Read more…]
Sand Bed Filtration: The Role of Sandy Sediments as a Site for Carbon Oxidation in Coastal Streams is the subject of a seminar 7 p.m. Thursday, July 18, at the Anheuser-Busch Coastal Research Center in Oyster. [Read more…]