By KRISTIN LEWIS
Town Harbor Staff
July 28, 2013
Cape Charles Town Harbor will be filled with thousands of locals and tourists August 3-4 eager to witness the Annual Clam Slam event.
Excited for the weekend's festivities, Harbormaster Smitty Dize explains the history behind the event: "Clam Slam officially started in 2012 because of the success of the Buy Boat Reunion in 2011. We came up with Clam Slam to showcase our area, which is the largest producer of clams in the country."
The weekend will be filled with events such as the Shriners Parade, Games and Activities, Artists and Vendors, Corn Hole Tournament, Crab Pot Cork Race, Smith Island Skiff Race, Live Music, and the 3rd Annual Boat Docking Contest.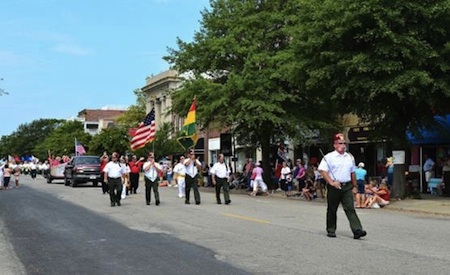 The Shriners Parade will kick off this year's Clam Slam. Shriners from Chesapeake will lead the parade beginning at 10 a.m. on Mason Avenue, lasting about a half an hour. The parade will include small race cars, classic cars, tractor trailers, sports cars, golf carts, fire trucks, and boats.
Games and activities begin Saturday afternoon and evening and include face painting, a bounce house, Corn Hole Tournament, Crab Pot Cork Race, and lots more. Registration for the Corn Hole Tournament begins at 11 a.m. and is $10 per team. The competitive Corn Hole Tournament begins at 3 p.m.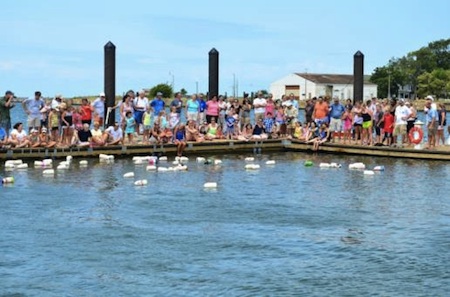 "The Crab Pot Cork Race originated in Cape Charles at the Buy Boat Reunion in 2011," explains Dize. "Kids get to decorate the corks, enter them in the race, keep their buoys when the race is over, and hopefully win prizes." Race registration begins at 11 a.m. and is $7 per person. The race begins at 7 p.m.
The Smith Island Skiff Racers will be lining up for their race at 2 p.m. Originally used as crabbing boats on Smith Island, these boats now fly through the water like racecars on a track.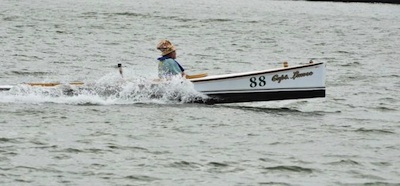 These small boats will cause a big ruckus throughout the harbor!
Live music begins Saturday afternoon. Loaded Goat will be playing at 4 p.m. After the 7 p.m. Crab Pot Cork Race and the first Boat Docking practice runs, Fat Tuesday and the New Custards will play around 7:30 p.m. Following the Boat Docking Contest Sunday afternoon, Planet Full of Blues will play around 4 p.m. [Read more…]