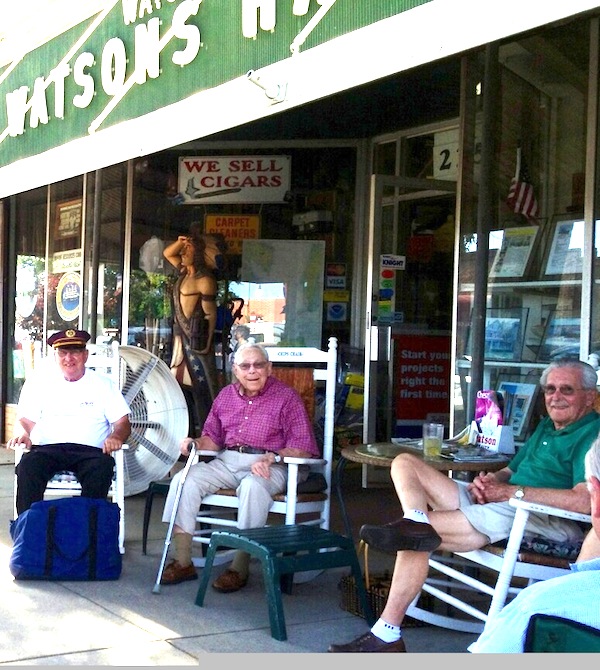 Taken July 4, 2013, this photo is a little late getting to press, but that doesn't matter — the gentlemen pictured are timeless. Setting up camp outside Watson's Hardware are three World War II veterans: Tony Sacco, 87 (Navy), Kemper Goffigon, 93 (Navy), and Lawrence Nottingham, 87 (Army). Photo courtesy Chip Watson.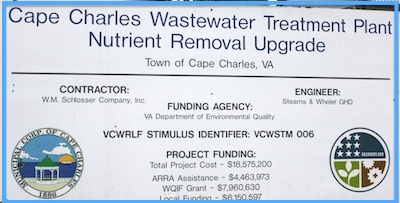 By WAYNE CREED
July 27, 2013
As a kid, growing up with a dad that tended to tinker in the garage with the radio on, I remember lazy days, tinkering alongside him on a bike or Briggs & Stratton lawnmower engine, all the while listening to the Paul Harvey show. I especially liked the section of the show "The Rest of the Story."
As of July 22, Northampton County finalized the Southern Node commercial service area which will pump sewage to the Cape Charles treatment plan. The County's PSA (Public Service Authority) has recommended a special taxing district for commercial property along Route 13. There is, however, "the rest of the story."
Back in 2008 and into 2009, the Town of Cape Charles was faced with a dilemma: the wastewater plant was failing (although reports of its impending demise may have been slightly exaggerated), and without addressing the issue, harsh dealings from the Department of Environmental Quality were on the horizon. The Mayor, the assistant town manager, and the town manager should be commended for stepping up and getting in front of a serious problem.
The facts: Cape Charles, like all municipalities in the Chesapeake Bay watershed, had to meet a specified nutrient waste load allocation by January 2011. If we did not meet this date, our current waste load allocation, which was based on a projected discharge of 500,000 GPD, would be reduced by half (along with possible fines).
But there is still more to the story. There were actually two competing plans on the table at the time: the current system, owned and operated by the Town, and a public private venture to be funded and managed by Webtide Partners, led by the concerns of Furlong Baldwin and Sons, and Joe Corrado.
Floating about was also the notion of a regional system to service Northampton County. In 2009, the Town and County held a wastewater summit. Then-supervisors Dave Burden and Spencer Murray posited lukewarm approvals in favor of a regional system, but one that was made up of several smaller plants; Burden also added that effluent should not be pumped back into the Bay, and that a water reuse plant should be at the forefront. [Read more…]