Graveside Service Saturday for Irene Carpenter, 85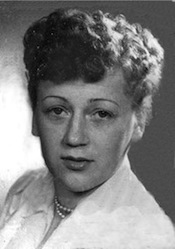 October 16, 2013
Irene Carpenter, 85, a resident of Machipongo,  passed away Tuesday, October 15, at her home where she had been cared for since suffering a stroke in 2008.
A visitation will be held 7-8:30 p.m. Friday, October 18, at Wilkins-Doughty Funeral Home in Cape Charles. Interment will be 1 p.m. Saturday, October 19, at Cape Charles Cemetery with Pastor Russell Goodrich officiating.
Mrs. Carpenter was born December 22, 1927, in Chemnitz, Germany, to Oskar and Walli Post Roschar. She became a beautician and was working in Landshut, Germany, where she met soldier Alvin Thomas Carpenter, Sr., when he came in on Thanksgiving Day 1950 to get a haircut. They celebrated their 60th wedding anniversary August 14, 2013.
Irene was known and loved by many for her sweet disposition and the beautiful baby blankets and outfits she often crocheted. She was a stay-at-home mom and wife while her children were young. She later worked in retail for several stores in Cape Charles and Exmore, and could often be found working on a project for an upcoming craft show or picking crab meat for special customers.
In addition to her husband, she is survived by twin sons, Robert (Katy) Carpenter of Warren, RI, Richard (Donna) Carpenter of Cut Off, LA; a daughter, Patricia (Peanut) Nock of Fruitland, MD; eight grandchildren, Adam Carpenter of Panama City, FL, Thomas Dize of Machipongo (who she affectionately named Poo-Bear as he devoted the past five years helping his grandfather care for her at home), Whitney and Noah Whittington of Fruitland, Courtney, Cody, Casey and Chloe Carpenter of Warren; and great-grandchild Logan Marshall born of Warren. She was predeceased by her son, Alvin Thomas Carpenter, Jr.
In lieu of flowers, memorials may be sent to Hospice and Palliative Care of the Eastern Shore, 165 Market Street, Suite #3, Onancock, VA 23417.
Online condolences may be sent to the family at doughtyfuneralhome.com.
Arrangements are by Wilkins-Doughty Funeral Home, Cape Charles.