Town Picks New Police Chief, Won't Say Who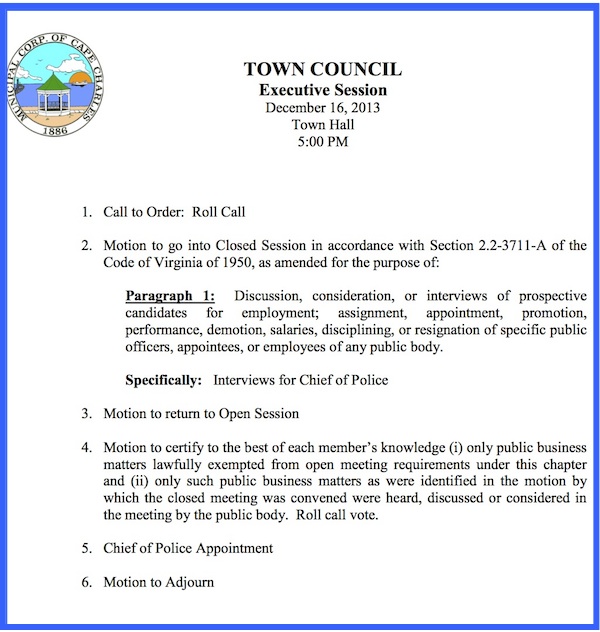 CAPE CHARLES WAVE
December 17, 2013
Cape Charles Town Council met in closed session yesterday to interview candidates for Chief of Police. According to the agenda above, Council then returned to open session and appointed a new police chief.
Under Virginia law, votes by a public body must be taken in open session accessible to the public.
Town Clerk Libby Hume told the Wave that she did not attend the Council meeting last night, nor did Assistant Town Clerk Amanda Hurley. By law, minutes must be taken of every Council meeting. Hume said that a recording had been made of the open session of the meeting, but that it was in Town Manager Heather Arcos' office. 
CONTINUED FROM FIRST PAGE
Arcos took the day off, and her office was locked. No one had a key, Hume said. "The only way I could get the recording would be to break down the door," she said. She promised to make the recording available as soon as Arcos returned to work.
Hume said that the Town planned to make a formal announcement of the new police chief on Thursday.
The Wave reached Town Manager Arcos Tuesday afternoon on her cell phone and asked who the new chief is, but she said she was in the checkout line at a store and would have to call back.
An update of the story will be filed when she calls back.