Chuckletown Productions Opens in 'Hotel Cape Chuck'
By SARAH GOLIBART
Cape Charles Wave
May 29, 2014
What is Chuckletown Productions? Everyone seemed to be asking this question before the store's grand opening the Friday of Memorial Day Weekend.
What is Chuckletown's mission? Create cool stuff. Walking into Charlene Dix and Laurie Klingle's shop on Mason Avenue you can see they created plenty of cool stuff. And I don't mean created as a loose term — Charlene and Laurie came up with nearly all of the designs sold on their items.
"Every other design here comes out of our heads. All of the ideas and layouts and little phrases and such are Chuckletown Designs," explained Laurie. When asked about the essence of Chuckeltown, employee Staige Goffigon answered, "It's really cool how they came up with the sayings on all the t-shirts and everything themselves. Everything is really original and casual."
CONTINUED FROM FIRST PAGE
Why a dog with a mustache? As the proud owner of a Boston terrier, Laurie explained, "We wanted to have a logo that was catchy, and that was all ages." Charlene added, "We want to be family friendly, but still sophisticated."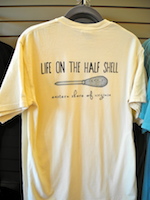 Charlene and Laurie describe their design style as "clean and chic with a retro flair — mixing in some old school stuff is a lot of fun." Among products like reprints of vintage Cape Charles post cards, the store features many local artisans. Laurie and Charlene say they plan to include more. Customers can purchase Shore Girls Bath Co. soaps and products, coffee from the Eastern Shore Coastal Roasting Company, Liz Watson's Bayside Seaside necklace, Scottie Rittenhouse's artwork on t-shirts, Laurie's original handmade jewelry, Ned Brinkley's bird book, and photography by Gordon Campbell and Ron Wrucke.
On the ground floor of Hotel Cape Charles, the shop will be a great destination for tourists and locals who visit Cape Charles — or make that Cape Chuck!