WAYNE CREED: Give Blue Crabs a Chance to Rebuild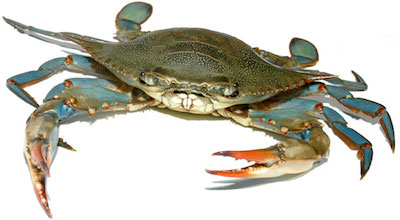 By WAYNE CREED
August 4, 2014
Last year's winter dredge of the Chesapeake Bay alarmingly indicated that the number of harvestable blue crabs has fallen to levels (lowest in 25 years) we haven't seen since before current restrictions went into effect more than five years ago. With prices for big jimmys over $200 a bushel at the dock (try close to $300 retail), we don't need the dredge to tell us something's wrong. The abundance of spawning-age females was 69 million, declining just below the minimum safe level of 70 million. The pressures of overexploitation and declining habitat has certainly been a factor, but the drastic decline is still baffling. The last winter around the Mid-Atlantic may also have had an adverse effect; however Virginia Institute of Marine Sciences disease ecologist Jeff Shields feels there is another cause.
A National Science Foundation grant provided funding to research the missing blue crab, and Mr. Shields has discovered that the existence of a single-celled parasite called Hematodinium may be a major factor in the blue crab's decline. Hematodinium was first reported along the East Coast in the 1970s and found in the Chesapeake's blue crabs in the 1990s. The infection is almost always fatal.
According to the NSF report, Hematodinium infects young crabs, which usually die before they can make their way out of spawning grounds to local tributaries. There are several factors that may lead to epidemics like Hematodinium, such as stressful environmental conditions caused by loss of habitat (diminishing grasses), pollution, and overfishing.
According to what Mr. Shields told the Washington Post, "We hope to develop best practices for managing, in particular, the Chesapeake's wild blue crabs. There's a perception among resource managers and fishers that diseases aren't important to the fishing industry, or that little can be done to manage them."
Virginia Marine Resources Commissioner John Bull also noted, "This is disappointing news. We are now in a position to focus on the depleted adult females and move forward to increase protection of the next generation."
CONTINUED FROM FIRST PAGE
The 2014 Chesapeake Bay Blue Crab report suggests that future catches and the ability for the blue crab stock to reach abundance targets could depend heavily on the survival and successful reproduction of the 2014 exploitable female stock. Protection is expected to increase the number of spawning age crabs in 2015, thereby lowering the probability of continued poor recruitment.
The good news is that there are still crabs around — they have a relatively short life cycle and reproduce quickly if left alone. After the female blue crab matures and mates, the newly molted sook must build muscle mass to ready herself for the migration to high-salinity spawning grounds where she will then release eggs (sooks let go of eggs 2-9 months after mating, usually May-August the next season). The average crab has about two million eggs, but may contain up to 8 million eggs, depending on her size.
The question is whether management efforts are doing enough to account for environmental variability (such as Hematodinium) from season to season. We've been here before: with the collapse of rockfish and yellow perch, it was only through a complete moratorium that these species were allowed to recover. Now it's time to do something similar for our blue crab — to leave them be, and give them a chance to truly rebuild. So far, Virginia has asked for a 10 percent reduction in the harvesting of females, and Maryland may soon follow suit.
Another critical issue is working to improve harvest monitoring and accountability using market-based tools as well as smartphones, tablets, and personal computers for daily harvesting reports. This will hopefully produce more timely, accurate, and verifiable harvest data, and will enable fishery managers to implement more strategic management plans.
Yes, I understand these measures may deal a harsh blow to an already struggling waterman culture, but without them, the fishery may finally collapse for good. The industry's first priority should be the long-term viability of the stock. In the interim, Virginia and Maryland should provide financial aid to commercial crabbers who may be asked to restrict their livelihood for two to three years while the stock recovers.
Reducing the stress from overfishing is only part of the answer. A recent report from the Environmental Integrity Project indicates that the lower Delmarva Peninsula is saturated with phosphorus and nitrogen, and that best management practices used to reduce runoff from chemical fertilizer, manure, and erosion are not working as well as thought. All this phosphorus and nitrogen causes massive algae blooms — sediment clouds the water, keeping sunlight from reaching underwater grasses, and silts over the hard water bottom essential for juvenile crabs to escape predators (such as rockfish).
The agricultural community on the Eastern Shore has been working very hard to reduce farm runoff, yet it is clear from this report that more needs to be done if the mandated "pollution diet" is going to meet its goal of restoring the health of the Bay, and will ultimately provide a sustainable habitat for the blue crab.
The Bay ecosystem is a complex, diverse habitat of plants and over 350 species of fish and shellfish. Managing these fisheries for both environmental and economic sustainability is fundamental to the Bay's restoration. From an ecological, economic, historical, and cultural standpoint, the blue crab is most critical. The challenge is that the fishery is so fragile, yet so dynamic and so dependent on the health of the Chesapeake Bay. In the end it will come down to a partnership between industry, agriculture, conservation, government, and anyone that wants to reside by the Bay. Whether the blue crab has a sustainable future will depend on this partnership, and how serious and committed we are to its success.