August 8, 2014
The second annual Harbor for the Arts Festival August 1-17 includes live free entertainment in public spaces in Cape Charles.  Dance, music, art, and theatre is being presented at the harbor, the park, Strawberry Street, Mason Avenue, and even Bill Parr's barn on Seaside Road. The festival includes an international dance workshop that will engage filmmakers, choreographers, and dancers.  
FRIDAY AUGUST 8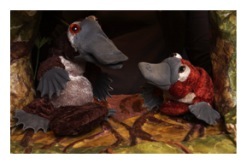 11 a.m. — Galapogas George, Barefoot Puppet Theatre, Cape Charles Library: Based on the true story of "Lonesome George," this show tells the tale of a truly one-on-a-kind tortoise from the Galapagos Islands. Described by The Smithsonian as "an uplifting eco-fable," this engaging theatrical piece shares an important lesson about man's impact upon the environment.

7 p.m. — Okyerema Asante on Strawberry Street: Okyerema Asante is a renowned master percussionist and the music ambassador of Ghana. Asante is truly an African music legend, having worked with  world renowned musicians including Little Feet and Hugh Masekela. He has been on three world tours, once with Paul Simon on the Graceland tour and twice with Fleetwood Mac on the Behind the Mask and Tango in the Night tours. As a soloist and a one-man ensemble. Mr. Asante is a master drummer well known for performing all parts of a traditional five-person drum group by himself. He attaches percussion instruments to various parts of his body and simultaneously plays drums, a balafon, and many other instruments. He plays as many as 85 instruments in one performance. Coming from a family of drummers, Asante is an expert of traditional Ghanaian talking drums.
SATURDAY AUGUST 9
8:30 a.m. — Yoga in Central Park: Start your Saturday with a body/mind practice. Various teachers coming from the local Hampton Roads Area and from as far away as Chicago will be teaching many different forms and styles of yoga practice.
11 a.m. — Mike Hawker at the Beachfront: Guitarist Mike Hawker offers easy listening, favorite ballads, and classic oldies — a great mix for an outing with friends!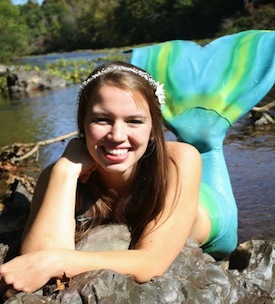 11 a.m. — Storyteller Mermaid Hales at the Cape Charles Library: As a family-friendly mermaid, Hales seeks to inspire children and feed both their imaginations and their love for the ocean. She believes that children are the future, and a passion for the ocean will lead to a passion for conservation. By encouraging children and adults to make eco-friendly choices, she believe that we can have a brighter, cleaner future. When not a mermaid, she is a student at the University of Virginia, studying Environmental Sciences and German Literature.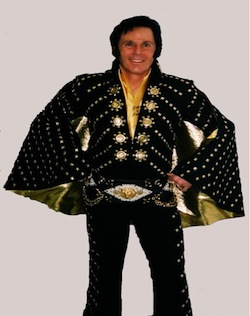 2-4 p.m. — Elvis, Roy Orbison, and Patsy Cline on Mason Avenue: Enjoy a family show that will take you on a musical ride thru the 50s, 60s and 70s with hits from Roy, Patsy and the King while mixing in some great classics. Shake, Rattle, and Roll with Jim Smith and members of his Memories Band.
4-5:30 p.m. — Old Man at the Fountain and Friends on Mason Avenue: Tony Sacco and friends on clarinet and guitar will perform outside the Stage Door Gallery playing traditional tunes and requests.
7 p.m. — Art in a Barn: Interactive Arts Night at Parr Barn, 24021 Seaside Road: Bill Parr's Seaside barn will be the home of one of the festival's most unusual events: a night of experimental music, dance, and visual arts. With a full moon rising, Taiwan's Dancecology, a dance group who performs in nature, will launch an evening of music, sound and light. Guggenheim Fellows Art Bridgman and Myrna Packer will share excerpts of their pioneering dance-film work, restaged inside the barn. Upstairs, a transformed space offers a light and sound experience with a surprise performance by dancers-in-residence. Live music by Charles Grove, drummer Okyerema Asante, and Sheila Sheppard Lovelady. A light sculpture garden and dancers in costumes will light up the night. Cash bar. [Read more…]