August 4, 2014
The second annual Harbor for the Arts Festival August 1-17 includes live free entertainment in public spaces in Cape Charles.  Dance, music, art and theatre is being presented at the harbor, the park, Strawberry Street, and Mason Avenue. The festival includes an international dance workshop that will engage filmmakers, choreographers, and dancers.  
MONDAY AUGUST 4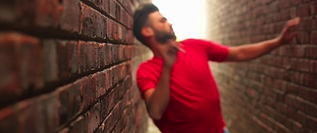 7 p.m. — Experimental Film Virginia 2013, Palace Theatre: Bridgman/Packer Dance and Film followed by short films created by film makers engaged in the workshop Summer 2013.
TUESDAY AUGUST 5
3 p.m. — Local Thespians at the Coffee House: The Cape Charles Players will be performing skits, reading poetry and entertaining you with their acting skills.
8 p.m. — I Played the Palace, Palace Theatre: Have you always dreamed of performing?  Your opportunity has arrived. A lighthearted and non-competitive evening at the Historic Palace Theatre where the talents of our neighbors and friends will be highlighted, all in good fun.  A variety of acts are welcome — singers, bands, actors and poets.  Bring your own equipment and props and we will provide the microphone to 10 performers.  Call 757 331-2787 to register.
WEDNESDAY AUGUST 6
6 p.m. — Heather and Nathan, Palace Theatre:  We couldn't be more proud to present this talented duo Heather and Nathan! Heather and Nathan Travis are a Shore institution.  They can regularly be heard on WESR Radio. They are in high demand at Aqua in Kings Creek Marina and in other venues on the Eastern Shore.
8 p.m. — Classics and Crooners, Palace Theatre: With pianist/vocalist William Neill along with Caitlin Wynonna Messer.  Enjoy an evening in the 1940s art deco theatre while William and Caitlin  entertain with a selection of classical tunes and show tunes.  Delightful and emotional ballads complemented by lively Broadway hits, all presented in a cabaret setting.
THURSDAY AUGUST 7
7 p.m. —  Le Hot Club de Biglick, Shanty Restaurant, Town Harbor: In the 1930s, a style of music became popular known as "Gypsy Jazz." This style of music was made famous by guitarist Django Reinhardt and violinist Stéphane Grappelli. Gypsy Jazz began with French musicians trying to emulate the jazz music coming out of America, while incorporating the gypsy influences that flavor their music. Today this music is kept alive by a group known as Le Hotclub de Biglick. The authentic gypsy sound is brought to the group by violinist Dan Adams of Bucovina (first chair violinist in national Philharmonic orchestras of Lautari, Doina Moldovei, and Balada).  Sponsored in part by the Virginia Commission for the Arts.
FRIDAY AUGUST 8
11 a.m. — Galapogas George, Barefoot Puppet Theatre, Cape Charles Library: Based on the true story of "Lonesome George," this show tells the tale of a truly one-on-a-kind tortoise from the Galapagos Islands. Described by The Smithsonian as "an uplifting eco-fable," this engaging theatrical piece shares an important lesson about man's impact upon the environment. This show was funded in part by a grant from the Puppeteers of America Endowment Fund and was awarded an UNIMA Citation of Excellence in 2005. The Barefoot Puppets Theatre shows feature contemporary adaptations of world folktales, classic tales with a twist, myths, and works based on true stories. The scripts, puppets, music, and sets are all original. Program sponsored in part by the Virginia Commission for the Arts.  Space is limited.
7 p.m. — Okyerema Asante on Strawberry Street: Okyerema Asante is a renowned master percussionist and the music ambassador of Ghana. Asante is truly an African music legend, having worked with  world renowned musicians including Little Feet and Hugh Masekela. He has been on three world tours, once with Paul Simon on the Graceland tour and twice with Fleetwood Mac on the Behind the Mask and Tango in the Night tours. As a soloist and a one-man ensemble. Mr. Asante is a master drummer well known for performing all parts of a traditional five-person drum group by himself. He attaches percussion instruments to various parts of his body and simultaneously plays drums, a balafon, and many other instruments. He plays as many as 85 instruments in one performance. Coming from a family of drummers, Asante is an expert of traditional Ghanaian talking drums.
CLICK for additional information about performances during the Harbor for the Arts Festival.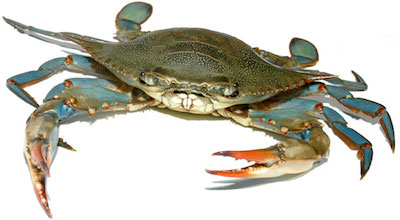 By WAYNE CREED
August 4, 2014
Last year's winter dredge of the Chesapeake Bay alarmingly indicated that the number of harvestable blue crabs has fallen to levels (lowest in 25 years) we haven't seen since before current restrictions went into effect more than five years ago. With prices for big jimmys over $200 a bushel at the dock (try close to $300 retail), we don't need the dredge to tell us something's wrong. The abundance of spawning-age females was 69 million, declining just below the minimum safe level of 70 million. The pressures of overexploitation and declining habitat has certainly been a factor, but the drastic decline is still baffling. The last winter around the Mid-Atlantic may also have had an adverse effect; however Virginia Institute of Marine Sciences disease ecologist Jeff Shields feels there is another cause.
A National Science Foundation grant provided funding to research the missing blue crab, and Mr. Shields has discovered that the existence of a single-celled parasite called Hematodinium may be a major factor in the blue crab's decline. Hematodinium was first reported along the East Coast in the 1970s and found in the Chesapeake's blue crabs in the 1990s. The infection is almost always fatal.
According to the NSF report, Hematodinium infects young crabs, which usually die before they can make their way out of spawning grounds to local tributaries. There are several factors that may lead to epidemics like Hematodinium, such as stressful environmental conditions caused by loss of habitat (diminishing grasses), pollution, and overfishing.
According to what Mr. Shields told the Washington Post, "We hope to develop best practices for managing, in particular, the Chesapeake's wild blue crabs. There's a perception among resource managers and fishers that diseases aren't important to the fishing industry, or that little can be done to manage them."
Virginia Marine Resources Commissioner John Bull also noted, "This is disappointing news. We are now in a position to focus on the depleted adult females and move forward to increase protection of the next generation." [Read more…]
August 4, 2014
EDITOR'S NOTE: Last week the Wave published a commentary by Ken Dufty on "Northampton Zoning's 'Man Behind the Curtain.'" (CLICK to read.) Northampton County Board of Supervisors Chairman Larry LeMond reacted to Dufty's commentary at a Board meeting July 28. In turn, Mr. Dufty has asked the Wave to publish his reply to Mr. LeMond's reply. Both gentlemen's statements appear below. 
JULY 28 STATEMENT BY CHAIRMAN LEMOND
There is no "man behind the curtain" in regard to the proposed zoning code. The Code draft is per the direction of the Board of Supervisors and was drafted by a team of seven employees from Administration, Legal, Planning and Zoning. Mr. McSwain was hired at the direction of the Board to provide several functions as Director of Development, including among them streamlining the planning and permitting process and addressing economic development.
The author of these letters suggested that PEMSCO would be allowed under the draft zoning code. In fact, such a use is not permitted in any district. Perhaps the confusion is that the use of burning soil to remove petroleum is not a biomass conversion of any type. In fact biomass conversion, which is only permitted on a small scale in all districts because it is required by Virginia Code, is the process of taking renewable resources, such as wood, and creating some type of energy. So a wood fireplace is a small scale biomass converter. As to the statement regarding the Exmore biodiesel project, the County has no influence over Exmore zoning. Regardless, any industrial operation, if permitted for a land use, must also meet all performance standards regarding offensive activity, U.S. EPA and VDEQ rules.
As to the draft code allowing a prison, the statements made are incorrect. Prison use is allowed in an agricultural district and then only with a special use permit which requires a public hearing. It is allowed by right in industrial, but the largest industrial site in the county is far too small to accommodate a prison, and thus a rezoning would be required with a public hearing to create a prison. The prison use was included to address the topic in the zoning code, not to enable one without a public hearing.
Further, Mr. McSwain on occasion works outside the community to support the economic development profession. He recently served as a judge for the International Economic Development Council 2014 Awards. He has not accepted any new outside compensation engagements since being employed by Northampton County.
KEN DUFTY RESPONDS
At the conclusion of the July 28, 2014, Northampton County Board of Supervisors work session, Chairman LeMond read into the official record a rather lively rebuttal to my "Who is the Man Behind the Curtain" letter that was printed in this newspaper last week. While I try to space the timing of my letters on the proposed zoning revisions, I greatly appreciate this rare chance to respond in a timeframe that this issue demands. [Read more…]
August 4, 2014
The Accomack-Northampton Planning District Commission (A-NPDC) is asking Eastern Shore residents to provide information regarding the location of properties that lack indoor plumbing in Accomack and Northampton Counties. Properties that lack indoor plumbing do not have the capability to dispose of sewage waste inside the residence. These properties typically utilize an outdoor pit privy or outhouse, although some properties fail to have outdoor facilities as well.
While pit privies may be permitted by the Virginia Health Department if constructed and maintained properly, many do not meet the regulated standards and pose a significant public health risk and have extremely adverse impacts on the quality of adjacent water bodies and the environment. [Read more…]
By JOE VACCARO
American Legion Post 56
August 4, 2014
Post 56 recently hosted a Wounded Warrior weekend barrier island excursion with the assistance of an organization called the Freedom Hunters. The event started with a Saturday breakfast with 23 wounded warriors, their family members, and numerous members of Post 56. The Warriors were led to the Miss Jennifer at Cherrystone Campground where they enjoyed a day of fun, fellowship, and fishing under the expert guidance of Capt. Ray Cardone.
The Warriors returned to Post 56 and were treated to a wonderful meal of ham, chicken, vegetables, and desserts prepared by Post 56 Chaplain Wilson Leggett and his wife, Diane. The Warriors then proceeded to the Rittenhouse Motor Lodge where Bob Rittenhouse provided free rooms to several members of this organization.
On Sunday the Warriors met again with Post 56 members for breakfast and were directed to the Oyster Boat Ramp where they boarded boats and toured the barrier islands and beaches. The group was led by Capt. Wilson Leggett and Capt. Chuck Williams, Bobby Cheney, Bernie Davis, Jim White, Hank Jones, Post 56 Adjutant Bob Roche, and Lester Clark.
This was a weekend filled with both poignant and triumphant moments and created a friendship and bond between the Warriors and Post 56 that will never be broken. At the end of the weekend event and as a token of their appreciation, the Freedom Hunters presented Post 56 an encased American flag that was a flown over a base in Afghanistan.
Registration is open for the Eastern Shore Master Naturalists 2014 basic training course which will be held on Thursdays, Sept. 11 through Nov. 13 from 9 a.m. to 3 p.m. at the Historic Onancock School. [Read more…]
Gone but Not Forgotten —  a  history of the Cape Charles ferries, presented by local historian Ron West 7 p.m. Thursday, August 14, at Cape Charles Memorial Library. [Read more…]
Both connoisseurs of craft beers and the curious can choose from over 30 regional microbrews to sample and savor at the Eastern Shore's only Craft Beer and Music Festival Saturday, August 9 from 3 p.m. to 9 p.m. The lawn of the ESO Arts School is transformed into a beer garden with live tunes brewing, and local seafood and BBQ grilling. Other foods, wine and non-alcohol beverages will also be available. [Read more…]