The second annual Harbor for the Arts Festival August 1-17 includes live free entertainment in public spaces in Cape Charles.  Dance, music, art, and theatre is being presented at the harbor, the park, Strawberry Street, Mason Avenue, and even Bill Parr's barn on Seaside Road. The festival includes an international dance workshop that will engage filmmakers, choreographers, and dancers.  
SUNDAY AUGUST 10
8:30 a.m. — Yoga in Central Park: Start your day with a body/mind practice. Various teachers coming from the local Hampton Roads Area and from as far away as Chicago will be teaching many different forms and styles of yoga practice.
1-4 p.m. — Art Rocks the Inns (B&Bs): The porches of the Bed & Breakfasts and inns of Cape Charles will be rocking with artwork. Each Bed and Breakfast will feature local artists showcasing their works, from all different mediums – paint, sculpture, wood, jewelry, and photography. Take a walking tour from inn to inn, or travel by bike, golf cart or car among the 5 properties, all located in Cape Charles' historic downtown district, and within 3/4 mile of one another.
Chesapeake Bay View B&B, 212 Bay Avenue: Karen Jolly Davis, beach glass jewelry; Melissa Stein, stained glass art; Gary Williams, etched glass
Sea Gate Bed & Breakfast, 9 Tazewell Avenue: Mama Girl, Black Folk Art and Newspaper Sculpturing
Bay Haven Inn, 403 Tazewell Avenue: Heather Gladden, ink wash sketches, photography, and pen illustrations of nature with a surreal twist; Two-Bit Tiaras, unique tiaras weaved from steel wire and embellished with anything from clamshells and freshwater pearls, and other repurposed objects
Cape Charles House, 645 Tazewell Avenue: Pam Kossman, handmade jewelry; Ocean Pottery, whimsical ocean motif porcelain pottery, metal serve ware and Turkish glass bowls
Fig Street Inn, 711 Tazewell Avenue: Ten Good Sheep, handcrafted natural fibers to adorn your body and home including bracelets, hats, ornaments, felted soap balls, and Muttmellows (doggie toys); Terre Ittner,"Banner in a Card" greeting cards that unfold into ribboned banners for all occasions; Carolyn Osmond, nautically inspired small framed pictures, greeting cards and note cards; Terence Smith, watercolor and pastel paintings inspired by nature, with a focus on the Eastern seaboard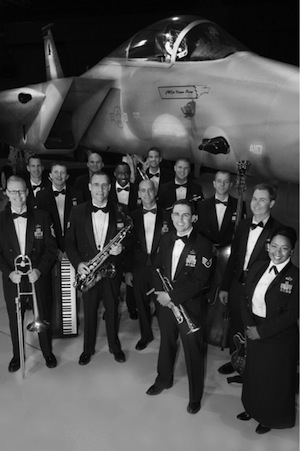 4 p.m. — Songs From A Distant Cockpit, Palace Theatre: Local author and resident John Schulz puts you in the cockpit of a single-seat, single-engine fighter plane as he and others trained in the "most dangerous plane ever built."
7 p.m. — US Air Force Jazz Band, Central Park: "Rhythm in Blue" is a highly entertaining and versatile 13-piece ensemble that performs the American musical art forms of jazz, blues and funk. The band features repertoire from the great jazz masters and pays tribute to the Big Band leaders of the swing era. Bring a beach chair and picnic. Wine and Margaritas available.
CLICK for additional information about performances during the Harbor for the Arts Festival.