CAPE CHARLES WAVE
March 4, 2013
What made the first Crabby Blues Festival such a big hit last year?
Was is the music? The food? The Central Park location? Or was it just an extremely well organized and promoted event?
Whatever the reasons for success, the Crabby Blues Festival now heralds the annual "reopening" of Cape Charles for the season — even if the weather isn't fully cooperative, as was the case last year.
The Cape Charles Christian School's Crabby Blues Festival is 3-8 p.m. Saturday, May 4, at Central Park. Tickets are $10 for adults and $5 for children when purchased in advance, and $12/$7 at the gate.
Admission includes an afternoon of music, a bounce house, games for kids, a petting zoo, and a ride on the crabby train. Tickets are for sale at Sullivan's, Rayfield's Pharmacy, Cape Charles Christian School, Nottingham Seafood, and Little Italy.
The musical lineup includes Heather and the Oyster Boys, Freshwater Frank and the Fish Band, John Baldwin, Scott and Melinda, and the Shy Teds. [Read more…]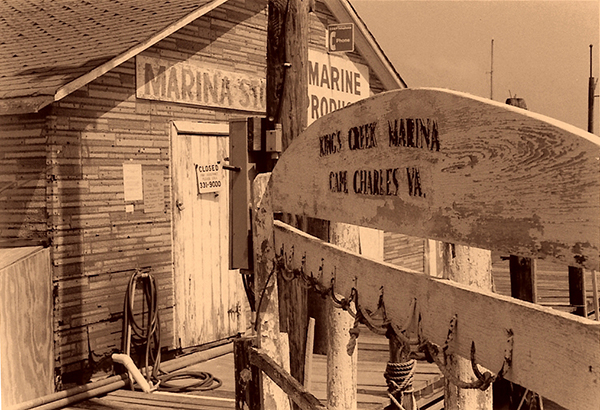 May 4, 2013
"Old Kings Creek Marina," by Michael Maddix, received an honorable mention in the Cape Charles by the Bay photo contest.
A total of 72 photographers submitted 451 photos for the contest, which are on display at Arts Enter through Sunday, May 12 (extended by popular demand).
The Wave will publish one photo from the contest each day during the exhibit.
Click the ARTS tab at top of page to see photos published earlier, including the three contest winners.
Saturday, May 4, at 7:30 p.m., ESO Arts Center scores another first for the Shore with An Evening with Andrew McKnight.
Andrew McKnight's musical kinship with rural communities like the Eastern Shore was the impetus for ESO's desire to bring him to the Shore for the first time. The acclaimed singer, songwriter and guitarist is known for his engaging collection of songs and stories celebrating the lives and landscapes of rural American people with warmth and humor.
Since permanently leaving his corporate environmental engineering career in 1996, the award-winning folk and Americana artist has traced half a million miles of back highways and backwater towns, and earned critical acclaim as well an enthusiastic fan base. McKnight's five CD's showcase soundscapes that span haunting blues, feisty anthems, rustic folk, and a bit of swing.
The National Theatre in Washington DC said McKnight "Blends wry and romantic stories with keen tuneful observations in a delicious mix of folk, blues and bluegrass … a man not to be missed."
The Boston Globe stated his voice was reminiscent of Don McLean. "McKnight traverses from old-time Appalachian tunes to contemporary folk and blues, all backed up by his dead-on guitar playing." [Read more…]
"International Migratory Bird Day" is 9 a.m.-1 p.m. Saturday, May 4, at the Eastern Shore of Virginia National Wildlife Refuge Visitor Center, 32205 Seaside Road.
The event includes crafts, activities, games, story time, a brownie walk, and more.
Everyone is welcome and it is free!
By DORIE SOUTHERN
Cape Charles Wave
May 3, 2013
Last week Cape Charles Town Council instructed Town Manager Heather Arcos and Treasurer Kim Coates to sharpen their pencils and come back this week with a proposed budget that would not increase taxes.
The marching orders were to cut 2 percent from staff budgets across the board.
But at last night's budget work session, Treasurer Coates presented only two options: 1) raise taxes to fund a higher budget, or 2) keep taxes at last year's level but borrow money to make up the difference.
Given those choices, Council tentatively agreed to a budget exceeding the "equalized rate" by $77,844.
Town staff did make some cuts to reach even that figure, most significantly scrapping a proposed 1 percent cost of living allowance increase. Originally, Town staff had recommended a 3 percent COLA.
Additional savings are proposed to come from eliminating Town contributions to most community-funded activities, including the Tall Ships Festival, the Birding and Wildlife Festival, the Shore Soccer League, Star Transport, and the new Cape Charles by the Bay tourism website.
Left in the budget was $10,000 for July 4th fireworks. [Read more…]