By DORIE SOUTHERN
Cape Charles Wave
May 10, 2013
The Town of Cape Charles has the most modern sewage treatment plant on the Eastern Shore.
It is also the most expensive.
Town Manager Heather Arcos broke the news at a Town Council budget work session last night: Now that the new plant is in operation, the cost for sewage treatment is skyrocketing, and the minimum monthly sewer charge of $35.45 could increase to $64.44.
That would be an increase of 82 percent in one year.
Town Council didn't like that number, and decided to defer some improvements and maintenance to cut costs by $85,000. Purchase of a grinder will be postponed, as will manhole repairs and engineering studies for pump stations.
Council also axed a $10,000 request from Chairman Bob Panek to fund his Public Service Authority that hopes to provide sewerage to properties on Highway 13 and the road to Cheriton.
Even with the cuts, sewer bills are still expected to increase by $18, which is a 51 percent increase over current rates.
The reason for the huge increase is because the Town borrowed $5 million for the new treatment plant and is required to pay down the loan by $289,000 every year for 20 years. [Read more…]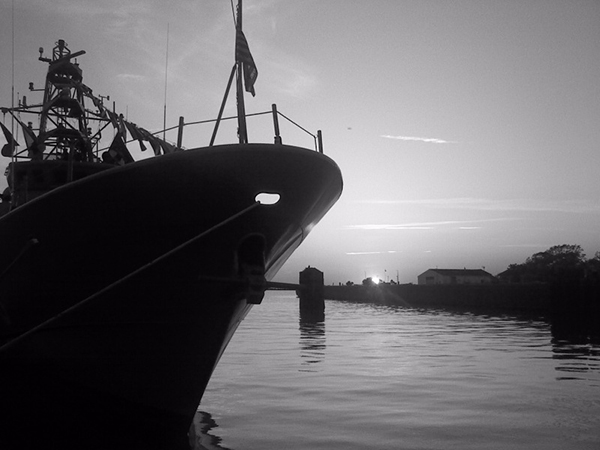 May 10, 2013
"Navy Ship," by Noah Burkhard, is one of 451 photos by 72 photographers on display at Arts Enter through Sunday, May 12.
The photos were entries in the Cape Charles by the Bay photo contest, in anticipation of the Town's new tourism website.
The Wave has featured one photo from the contest each day during the exhibit.
Click the ARTS tab at top of page to see photos published earlier, including the three contest winners.
The Science and Philosophy Seminar of the Eastern Shore of Virginia presents "Shorekeeper Coastal Monitoring Program." 12:30 p.m. Friday, May 10, in the Eastern Shore Community College lecture hall, 29300 Lankford Hwy., Melfa. [Read more…]