By DORIE SOUTHERN
Cape Charles Wave
May 28, 2013
The Town of Cape Charles has been ordered to pay back $18,000 for computers purchased through grant funds.
The computers are now located in the Town's new library in the former Bank of America building. Previously they were housed in the Cape Charles Christian School.
Town Manager Heather Arcos informed Town Council May 16 that "a citizen complaint" that the computers were not available to the public was made to the U.S. Department of Housing and Urban Development (HUD) last fall when the computers were in the Christian School.
The Virginia Department of Housing and Community Development (DHCD) investigated, and instructed the Town to make the computers available to the public by December 19, 2012.
According to Arcos, the computers were moved from the Christian School to the new library building on December 11. The library had not yet opened, but "a computer class schedule was posted with pre-registration requirements until the relocation of the library."
However, no one registered, and no classes were held. The DHCD made an unannounced visit and found the building locked.
As a result, Arcos said, DHCD ordered the Town to repay $18,000 of grant money. [Read more…]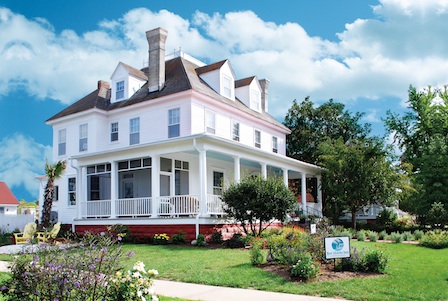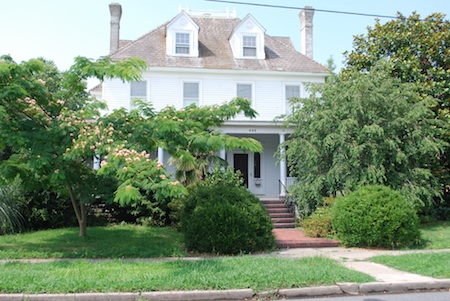 CAPE CHARLES WAVE
May 27, 2013
The pictures are worth a thousand words.
On the right is how Bay Haven Inn looks today, after Jim and Tammy Holloway got hold of it.
Below is what it looked like when they bought it.
The transformation at 403 Tazewell Avenue is one of the most dramatic examples of what is being
played out all over the Cape Charles Historic District.
Houses are getting coats of paint, new roofs, new plumbing, electrical work, shored-up foundations, and years of overgrowth are being trimmed from yards.
And something else is blooming like spring crocuses: For Sale signs.
The real estate market is the most active this year since the bubble burst, with numerous owners deciding it's time to list their house. Houses like Bay Haven Inn are surely promoting confidence in the Historic District.
Bay Haven Inn and the Northampton Chamber of Commerce hosted an "It's Five O'clock Now" ribbon cutting last Thursday to officially kick off the tourist season in Cape Charles.
Chamber board chairman Linda Buskey, who also is sales manager at Bay Creek Reality, along with Eastern Shore of Virginia Tourism Director Dave Schulte, joined the Holloways for the ribbon cutting. [Read more…]