Mary Belle Crockett, 82, Former Town Harbor Master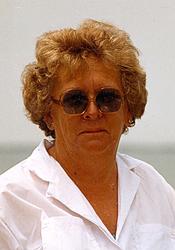 February 24, 2013
Mary Belle Crockett, 82, wife of the late John Pardy Crockett and a resident of Cedar Grove, passed away Sunday, February 24, at Riverside Shore Memorial Hospital in Nassawadox.
She was Harbor Master for the Town of Cape Charles for 30 years.
The funeral will be 2:30 p.m. Tuesday, February 26, at Lower Northampton Baptist Church with the Rev. Jeff Conrow officiating. Interment will follow in the Cape Charles Cemetery. Family will join friends at Wilkins-Doughty Funeral Home on Monday evening from 7 to 8:30.
A native of Wango, MD, Mrs. Crockett was the daughter of the late Clyde Charles Darby and the late Sarah Ann Darby.
She is survived by two sons, Charles E. Cox, Sr., and his wife, Cynthia, of Palm Bay, FL, Marshall B. Cox, Sr., and his wife, Mary Ann, of Cape Charles; one sister, Lyda Lank of Berlin, MD; one brother, Lloyd Darby of Port St. Lucie, FL; seven grandchildren, Charles E. Cox, Jr., Ashley Lamm, Marshall B. Cox, Jr., Laura Robbins, Robin Mears, Ashley Rosen, Amanda Rogers and 11 great-grandchildren. She was predeceased by six brothers, Alfred Darby, Linwood Darby, Clyde William Darby, Ben Darby, Levi Darby, Lee Darby and one sister, Betty Darby.
Memorials may be made to S.P.C.A. Animal Shelter, P.O. Box 164, Onley, VA 23418 or to Hospice and Palliative Care of the Eastern Shore, 165 Market Street, Suite #3, Onancock, VA 23417.
Online condolences may be sent to the family at www.doughtyfuneralhome.com
Arrangements were by Wilkins-Doughty Funeral Home in Cape Charles.