By DORIE SOUTHERN
Cape Charles Wave
February 25, 2013
Well before the Brown Dog Ice Cream Shop opened last summer on Mason Avenue, the  Delisheries building next door displayed a sign: "Yogurt Bar coming soon."
But the next sign seen on the building was a STOP WORK order by  Cape Charles Code Enforcement official Jeb Brady.
Brady issued the order after asbestos was found in the building. Eventually the "Coming Soon" sign disappeared, and nothing has happened in the building since.
But at the February 19 meeting of the Town's Historic District Review Board, town planner Tom Bonadeo reported that he and Brady have been meeting for several months with the building owners and their architect regarding rehabilitation plans.
The original plans for the yoghurt shop were approved long ago by the Review Board.
Bonadeo said he believes that a yogurt bar is still planned for the building.
The plans also include adding two floors of residential apartments — one on a new second floor and one on a third floor.
No ongoing construction is apparent, and no opening date for a yogurt bar has been announced.
In other business at the Historic Review Board meeting, Bonadeo announced plans to hire consultants to train members of the Board. [Read more…]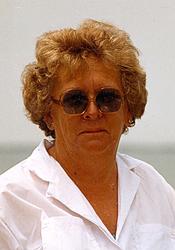 February 24, 2013
Mary Belle Crockett, 82, wife of the late John Pardy Crockett and a resident of Cedar Grove, passed away Sunday, February 24, at Riverside Shore Memorial Hospital in Nassawadox.
She was Harbor Master for the Town of Cape Charles for 30 years.
The funeral will be 2:30 p.m. Tuesday, February 26, at Lower Northampton Baptist Church with the Rev. Jeff Conrow officiating. Interment will follow in the Cape Charles Cemetery. Family will join friends at Wilkins-Doughty Funeral Home on Monday evening from 7 to 8:30.
A native of Wango, MD, Mrs. Crockett was the daughter of the late Clyde Charles Darby and the late Sarah Ann Darby. [Read more…]
Let's Line Dance!  To the right, to the right, to the right, to the right.  To the left, to the left, to the left, to the left; and kick, kick, kick, kick; now walk it on your own, walk it on your own.   That's the Cupid Shuffle and it's that easy! [Read more…]
"The Peaceful Warrior" will be shown 6:30 p.m. Thursday, February 28, at Rejuvenating Body Therapies. [Read more…]