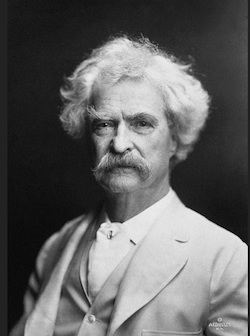 February 1, 2013
EDITOR'S NOTE: Mark Twain wrote the following short story 140 years ago. Some details are perhaps exaggerated, but modern-day readers of the Cape Charles Wave nevertheless may draw some parallels. The story has been condensed for modern attention spans.
Journalism in Tennessee
By Mark Twain
I was told by my physician that a Southern climate would improve my health, and so I went down to Tennessee, and got a berth on the Morning Glory and Johnson County War-Whoop as associate editor.
When I went on duty the chief editor told me to take the exchanges and skim through them and write what seemed of interest.
I wrote as follows:
"The editors of the Semi-Weekly Earthquake evidently labor under a misapprehension with regard to the Dallyhack railroad. It is not the object of the company to leave Buzzardville off to one side. The gentlemen of the Earthquake will, of course, take pleasure in making the correction.
* * *
"John W. Blossom, Esq., the able editor of the Higginsville Thunderbolt and Battle Cry of Freedom, arrived in the city yesterday. He is stopping at the Van Buren House.
* * *
"We observe that our contemporary of the Mud Springs Morning Howl has fallen into the error of supposing that the election of Van Werter is not an established fact, but he will have discovered his mistake before this reminder reaches him, no doubt.
* * *
"It is pleasant to note that the city of Blathersville is endeavoring to contract with some New York gentlemen to pave its well-nigh impassable streets. The Daily Hurrah urges the measure with ability, and seems confident of ultimate success.
* * *
I passed my manuscript over to the chief editor. He glanced at it and his face clouded. Presently he sprang up and said:
"Thunder and lightning! Do you suppose my subscribers are going to stand such gruel as that? Give me the pen!"
While he was in the midst of his work, somebody shot at him through the open window, and marred the symmetry of my ear. [Read more…]
"I Played the Palace": At 7 p.m. Saturday, February 9, the stage of the Historic Palace Theatre in Cape Charles will be filled with a lighthearted, non-competitive show of talent as local singers, actors, dancers or poets perform on the stage. [Read more…]
January 31, 2013
DEAR EDITOR:
There is a rental scam going on that we should all be aware of.
It begins with a rather normal reservation request on line. Prices and dates are confirmed. These are often unusual names —  I have received a reservation request from Lychagina Kudryashov claiming to be in Ukraine (but I have also received requests from England). Often the requests come from "priests" coming on retreat or extended stays.
People do not stay at B&B's for a month!
The requests also usually have some sort of grammatical error, leaving out words or capitalization.
Sometimes it helps to respond by asking questions. The scammers usually cannot say what airport they are coming into, or even their form of transportation.
The scam is that they claim that they cannot give a credit card number for deposit over the Internet or phone because of security reasons. Instead, they promise to send a check.
They then send a check for a huge amount of money, asking that you deposit it and send on the rest to a travel agent or whatever.
The scam is that it is a fake cashiers check, and they are playing with the time it takes for the bank to realize that the check is fake.
If you do send on the extra money as a "courtesy" to your international guest, you have been scammed.
Recently I received a cashiers check for $5,450 from the Credit Union of Atlanta, Georgia. It looks very legitimate.
I called the bank's security and they told me it was fraudulent, not from their bank, and that they have been trying to catch up to the forgers for some time. [Read more…]
By BRUCE LINDEMAN
Cape Charles Wave
January 30, 2013
By now most of you who have read my past columns know that I tend to write about what I perceive to be what's good in this town of ours.
2012 was a year of controversy and angst for many, and I simply don't want us to lose sight of all the good things that happen throughout the course of the year and the people behind those things.
The old "forest for the trees" adage is alive and well here:  we have to consider the whole if we're going to pick the nit.
Case in point:
I have an old truck.  It's not a beauty nor is it anywhere near new.  Fred is a 23-year old Ford F-150 pickup.
I've owned Fred for seven or eight years now, I suppose.  I don't measure my time with Fred in terms of years or miles, but in the quality it adds to our lives.
Why the name Fred?  Before I bought it, I borrowed a friend's F-150 to help move some furniture.  That truck was affectionately named Lamont by my friend.  It was the same vintage as Fred.
If you remember the TV show Sanford and Son, you'll get Lamont and Fred.
My son was maybe four at the time, and I plopped him in the seat next to me figuring he'd get a kick out of riding high in a truck.  Little did I know how much so.
Jack rode back and forth with me over the course of two days as we moved loads of furniture to our new house.  The evening I brought Lamont back to my friend, we put the kids to bed and I made a final trip back to my friends' to retrieve my car.
The next morning, Jack looked outside in the driveway and asked, "Where's Lamont, Daddy?"  I told him we had only borrowed it and that it wasn't ours to keep.  His little eyes began to tear up.  He clearly didn't understand.  My heart broke for him.  So I vowed that I'd find a truck just like Lamont for us to tool around in. [Read more…]
17th Annual February Freeze is 12 noon Saturday, February 9, at  Cape Charles Beachfront. [Read more…]
The public is invited to attend a workshop for the Eastern Shore of Virginia Chapter of Citizens Climate Lobby 10 a.m.-1 p.m. Saturday, February 9, at Central Green (formerly Central High School) in Painter. [Read more…]
By DORIE SOUTHERN
Cape Charles Wave
January 29, 2013
Cape Charles Town Council faced a Catch-22 at its January 24 meeting: Wait until September for federal funding to repair or replace the fishing pier damaged by Hurricane Sandy — or fix it at Town expense and risk forfeiting funds from FEMA (Federal Emergency Management Agency).
But the decision was unanimous: Council could not accept keeping the pier closed through the summer, and so voted to patch it up at Town expense.
The hope was still that FEMA eventually would pay to replace the heavily damaged portion of the pier, which is the part built alongside the jetty.
But Town staff were less optimistic than at the previous Council meeting, when Public Works Director Dave Fauber had said that "FEMA is going to be dumping a lot of money in it to fix it and fix it right this time."
Now, Town staff are worrying that FEMA is too preoccupied by the storm damage in New Jersey to give priority to Cape Charles.
Council's dream is to build a new section of pier away from the jetty, closer to the harbor, connecting to the deeper water portion of the existing pier. The cost could be upwards of $300,000.
Unfortunately, FEMA would not bear any of that cost — the agency is willing only to repair or replace an existing structure, not build a new one.
So the Town plans to fix up the old pier just enough to be safe for the summer.
The Catch-22? If the Town does too good a job on repairs, FEMA might decide the pier doesn't need to be replaced.
Wave Attenuators Get Thumbs Up
In other business, Town Council voted to move forward with plans to build floating wave attenuators at the entrance to the Town Harbor. [Read more…]
January 29, 2013
Arts Enter has announced a photo contest to help develop a tourism website called CapeCharlesByTheBay.com.
The website will promote Cape Charles as a lively, beautiful, and sustainable place with the arts at the core.
Approximately 20 photos will be selected as finalists or honorable mentions and will be featured on the website and supporting marketing campaign.
A photography show and exhibition at the Stage Door Gallery will recognize winners and entrants.
The Contest is open to all photographers, regardless of residence. Photos must be submitted electronically to [email protected] by  Friday, February 15. Visit http://www.figstreetinn.com/ccphotocontest.html for complete contest rules.
For the most up-to-date Contest info and for a sneak peek at some of the entries, "join" the Photo Contest Event page on Facebook – https://www.facebook.com/events/564557523572908/. [Read more…]