Florence Lucey Funeral Tuesday at St. Charles Church
July 11, 2013
Florence T. Lucey, 94, wife of the late John R. Lucey and the late John Kovak and a resident of Silver Beach and also Point Pleasant, NJ, passed away Tuesday, July 9, at her Silver Beach residence.
The funeral will be 11 a.m. Tuesday, July 16, at St. Charles Catholic Church with Father J. Michael Breslin officiating.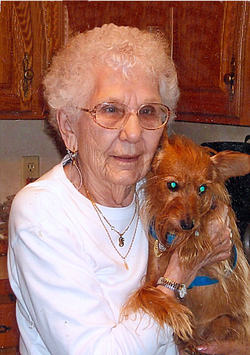 In lieu of flowers, memorials may be made to Hospice and Palliative Care of the Eastern Shore, 165 Market Street, Suite #3, Onancock, VA 23417 or Scott Herring Endowed Scholarship, c/o Palmer Chiropractic College, 1000 Brady St., Davenport, IA 52803.
Mrs. Lucey was a native of Bayonne, NJ, the daughter of the late George Nemec and the late Susan Krissanda Nemec. She was a member of St. Martha's Catholic Church and St. Charles Catholic Church.
She is survived by three daughters, Elaine Lucey Plaschke and her husband, Thomas, of Silver Beach, Judith Lucey Adams and her husband, Richard, of Silver Beach, Susan Lucey Vanvelzor and her husband, Steven, of Battle Point; two stepsons, John Kovak and his wife, Toni, of Manasquan, NJ, David Kovak and his wife, Jill, of Millville, NJ; a sister, Helen Peck of Ft. Pierce, FL; three grandchildren, Jolaine Calderella and her husband, John, of Point Pleasant, Joseph Auriemma and his wife, Cara, of Mendham, NJ, Garrett Herring and his wife, Carri, of Milford, DE; two step-grandsons, Robert J. Plaschke, Michael Plaschke; two step-granddaughters, Angela Boyd, Amanda Vanvelzor; and 15 great-grandchildren; William P. McCormack, Alyson C. Auriemma, Matthew J. McCormack, Jordon Auriemma, Conner Hall, Wyatt Herring, Deacon Herring, Virginia Kovak, Alexander Kovak, Kalyn Plaschke Bradley, Justina Plaschke Chirelli, Robert J. Plaschke, Joseph T. Plaschke, Chyanne Boyd, Mason Boyd; and a great-great granddaughter, Juliet Chirelli. She was predeceased by a step-daughter, Bernadette Whelan and a grandson, Christopher Scott Herring.
Online condolences may be sent to the family at www.doughtyfuneralhome.com
Arrangements are by Doughty Funeral Home, Exmore.