EDITOR'S NOTE: Quite a few publications have reported the charms of little Cape Charles, and the WAVE reprints the stories when possible. They tend to be one-dimensional, Disneyland-like depictions, but everyone enjoys reading about themselves. Wendy Mitman Clarke's story below, published last year in Chesapeake Bay Magazine, is refreshingly different: she accurately portrays the "real" Cape Charles. Many of our readers may not have seen it, and the rest may enjoy reading the story again, which Chesapeake Bay Magazine has graciously allowed the WAVE to reprint. 
By WENDY MITMAN CLARKE
Chesapeake Bay Magazine
Cape Charles was not on the itinerary. But we had committed that most typical of sailing mistakes; we made a plan based on an assumption. In this case, we had planned to anchor behind the concrete ships off Kiptopeke on Virginia's lower Eastern Shore after a 29-hour passage from Cape Lookout, N.C. It was the end of our month-long, 2,750-nautical-mile journey from Panama to the Chesapeake, and we were ready to drop the hook in Bay water and toast success. The assumption was that this anchorage was the same as it had always been, a good spot to shelter for a night from a strong seabreeze and potential thunderstorms. We hadn't figured on a field of spring crab pots so thick it looked like someone had shaken loose a truckload of Skittles on the water. Anchoring was out of the question.
We were losing light, and we were tired. Cape Charles was only a few miles north up the Cherrystone Channel. Maybe we could anchor in a tiny spot near the harbor entrance where we had once anchored our former boat, Luna. It was far from ideal (and possibly illegal, since Osprey is much bigger than Luna and we might have to swing slightly into the channel), but it might work. As we approached the entrance, I glanced east into the harbor and saw something that made me grab the binoculars. We motored in for a closer look. Sure enough, where last I had seen only a crumbling industrial bulkhead, there was a set of brand new floating docks. It took us about two seconds to slide Osprey along one of the T-heads and secure her for the night.
I went looking for anyone who might know how to find the harbormaster and came upon two folks from a small sailboat that had also just tied up. "We passed him on our way in; he was in a skiff heading out," the woman told me. "He said just go ahead and take whatever slip we liked and he'd see us in the morning." She asked if I knew where to grab some dinner. Sunday night in Cape Charles, a week before the high summer tourism launch of Memorial Day Weekend? Not likely, I thought. Last time I was here, the only place open on Sunday night was the Burger King, miles away out on Route 13. But I asked a fellow off a fishing trawler called Captain Ed out of Kitty Hawk, N.C., tied up nearby. "Oh yeah!" he said enthusiastically. "Kelly's Pub, right there on the main street. You can see it from here. Try their buffalo burger, it's awesome." [Read more…]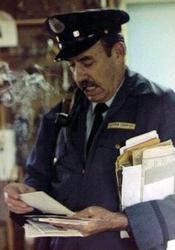 January 18, 2013
Dennis Franklin Thornes, Jr., 84, husband of Ethel Ada Parker Thornes and a resident of Birdsnest, passed away Thursday, January 17, at his residence.
A graveside service will be conducted 2 p.m. Sunday, January 20, at Cape Charles Cemetery with the Rev. Randy Lewis officiating.
Flowers will be accepted or memorial contributions may be made to Hospice and Palliative Care of the Eastern Shore, 165 Market Street, Suite #3, Onancock, VA 23417 or to S.P.C.A. Animal Shelter, P.O. Box 164, Onley, VA 23418.
A native of Accomac, Mr. Thornes was the son of the late Dennis Franklin Thornes, Sr. and the late Clara Crockett Thornes.
He was a veteran of the U.S. Army Air Corps, club champion of the Northampton Country Club, dedicated theologian and retired letter carrier for the Cape Charles Post Office. [Read more…]