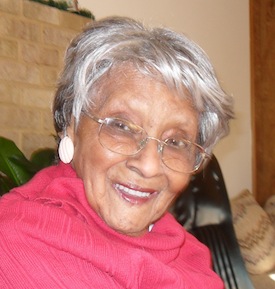 January 19, 2013
Alston Joynes Godwin, 101, died at her Cape Charles residence Wednesday, January 16.
The family will receive friends at a viewing 5-7 p.m. Wednesday, January 23, at First Baptist Church, Cape Charles. The funeral service will be 12 noon Thursday, January 24, at the church.
She is survived by a son, Cape Charles Town Council member Thomas George Godwin, and his wife Juanita; a daughter, Jennie Marie King; three grandchildren and three great-grandchildren.
Mrs. Godwin was one of Cape Charles' longest living residents. She was one of the oldest living licensed funeral directors in the state of Virginia, and was considered by many as a trailblazer for women in the funeral business.
Born in 1911 in the small community of Fairview on Virginia's Eastern Shore, her early days were spent commuting from her family's farm to school via horse and buggy. As a teenager, she attended boarding school at Tidewater Institute and Nursing College at Dixie Hospital in Hampton.
At the age of 16, she began a mortuary apprenticeship at Gray's Funeral Home, under the direction of her aunt and uncle, Jennie and Mills Gray. She learned the art and science of funeral directing and contributed to the business in numerous capacities before attaining a Virginia Funeral Director's license in 1944.
Upon the passing of her aunt, Godwin became owner and operator of Gray's Funeral Home, and built the current location near her home in Cape Charles. [Read more…]
Science and Philosophy Seminar of the Eastern Shore of Virginia is pleased to announce its next seminar, "The Rational Case for Monetary Reform," 12:30 p.m. Friday, January 25, in the Eastern Shore Community College lecture hall, 29300 Lankford Hwy., Melfa. [Read more…]
The Beekeepers Guild of the Eastern Shore is offering a Beginning Beekeeping Class in February at the Eastern Shore Chamber of Commerce in
Melfa. [Read more…]