Dennis Thornes, 84, Retired Town Postal Carrier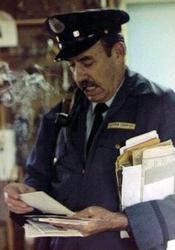 January 18, 2013
Dennis Franklin Thornes, Jr., 84, husband of Ethel Ada Parker Thornes and a resident of Birdsnest, passed away Thursday, January 17, at his residence.
A graveside service will be conducted 2 p.m. Sunday, January 20, at Cape Charles Cemetery with the Rev. Randy Lewis officiating.
Flowers will be accepted or memorial contributions may be made to Hospice and Palliative Care of the Eastern Shore, 165 Market Street, Suite #3, Onancock, VA 23417 or to S.P.C.A. Animal Shelter, P.O. Box 164, Onley, VA 23418.
A native of Accomac, Mr. Thornes was the son of the late Dennis Franklin Thornes, Sr. and the late Clara Crockett Thornes.
He was a veteran of the U.S. Army Air Corps, club champion of the Northampton Country Club, dedicated theologian and retired letter carrier for the Cape Charles Post Office.
CONTINUED FROM FIRST PAGE
In addition to his wife, he is survived by three sons, Mike Thornes and his wife, Patty, of Birdsnest, Jeff Thornes and his wife, Pam, of Eastville, Dennis Thornes and his wife, Tammy, of Virginia Beach; one daughter, Jennifer Moore and her husband, Russell, of Cape Charles; one brother, Gordon Thornes and his wife, Susan, of Norfolk; five grandchildren, Jarrod Sayers of Exmore, Danielle Labreck of Nassawadox, Quinton Thornes of Virginia Beach, Toni Thornes of Manhattan, NY, Jake Thornes of Eastville; and two great grandchildren, Caleb Sayers of Exmore and Liam Sayers of Exmore. He was predeceased by a daughter, Denise Thornes Sayers; two brothers, Estes Thornes, Vincent Thornes; and two sisters, Marie Murdock and Anna Mae Bell.
Online condolences may be sent to the family at www.doughtyfuneralhome.com.
Arrangements were made by Wilkins-Doughty Funeral Home, Cape Charles.