Virginia Brady Parker, 84, Oyster Native, Town Resident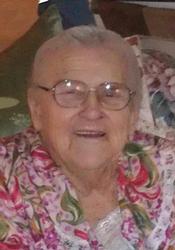 January 3, 2013
Virginia "Skip" Brady Parker, 84, wife of the late William "Digger" Parker and a resident of Cape Charles,  passed away Thursday, January 3, at Riverside Shore Memorial Hospital in Nassawadox.
A graveside service will be conducted 2 p.m. Monday, January 7, at Cape Charles Cemetery with the Rev. Joe Moore officiating.
Family will join friends at Wilkins-Doughty Funeral Home Sunday evening from 7-8:30 p.m..
Flowers will be accepted or memorials may be made to a charity of one's choice.
A native of Oyster, Mrs. Parker was the daughter of the late Michael H. Brady and the late Catherine Moore Brady.
She is survived by three sons, Alvin "Buddy" Parker and his wife, Lillie, of Cape Charles, Wayne "Slick" Parker and his wife, Pat, of Smyrna, DE, and Douglas "Dougie" Parker and his wife, Maxine, of Eastville; 10 grandchildren; 32 great-grandchildren and 5 great-great grandchildren. She was predeceased by two sons, William Spencer Parker, Jr., and Randall Lee Parker; a daughter, Darlene Parker Brady; a grandson, Harry "Curly" Parker, and a great granddaughter, Catherine Miranda Merritt.
Online condolences may be sent to the family at www.doughtyfuneralhome.com.
Arrangements were made by Wilkins-Doughty Funeral Home in Cape Charles.